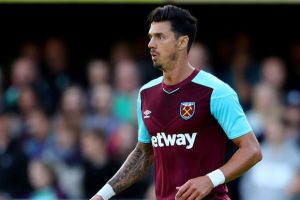 West Ham's League position may become slightly more realistic following the match against Brighton and Hove Albion on Friday night.
For the game means that we will go all square with every other Premier League team in terms of home games played and until the weekend  at least we may get a better idea of where it puts us in the pecking order.
Because of our unfortunate away day start to the season we have played just three games at the LS with all other clubs playing four on their home ground.
A win over the south coast team would lift us into 10th place and it's a game which Jose Fonte has declared we must win.
Speaking to the official site he said: "We must move on and now we have to beat Brighton at home."
Slaven Bilic looks certain to name another highly attacking team as was the case in the last to home games and the much desired Chicharito/Diafra Saho pairing is more likely than at any stage this season.
Fonte said: "We have great attacking players going forward, but we also know that in this division we have to do the job defensively as well. As long as we do that we will be okay.
The defender also gave his praise for goal-scorer Antonio, who netted his first finish of the season in the draw with the Clarets.
"We all know what Michail offers. He's a powerful boy and he gives us a dimension of energy and physicality. I'm not surprised he scored. He creates problems for defenders. It's good to have him in the team."