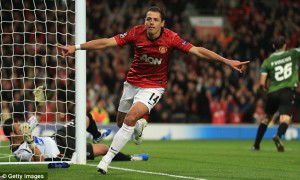 West Ham are still deeply involved in trying to bring Javier Hernandez to the London Stadium.
With Olivier Giroud now almost certainly on his way to Marseille, Slaven Blic is pulling out all the stops on his No 1 priority and is desperately keen to see the former Manchester Unite striker added to his squad.
Chelsea are reported to be showing an interest but the Hammers remain hopeful they can tempt to Mexican into the club on a top contract.
They are taking the view that regular first team football at the London Stadium could hold a lot more appeal than him becoming a squad player at Stamford Bridge.
Although Hernandez has a £13million escape clause in his Bayer Leverkusen contract the Hammers are willing to go more than that to land their man who would be seen as a cut price option as the Blues chase Real Madrid's Alvaro Morato.
Twenty nine year old Hernandez is believed to want £140k a week in personal terms and the Irons are currently talking to his agents as they bid to get close to a suitable package.