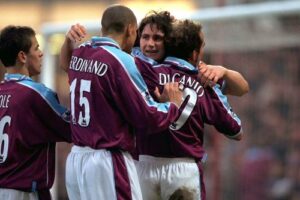 Hammers historian Nigel Kahn and filmmaker Canning Town Len have returned with episode three of their new Hammers history podcast in association with Moore Than Just A Podcast. Episode three relives the West Ham 1999/2000 season with the magic of Hammers legend Paolo Di Canio with classic games against Arsenal, Sheffield Wednesday, Bradford and Wimbledon all covered during this one hour and 17-minute podcast.
Episode Three is available to download or listen online from https://play.acast.com/s/moorethanjustapodcast/76ad492a-6e00-4649-ab78-cb8ca46938ae
The podcast is pure reminiscing as Nigel and Len take you on a trip back down memory lane when West Ham had a team to be proud of. Further episodes will cover other great periods of time in the Hammers history.
Episode One is available to download or listen from https://play.acast.com/s/moorethanjustapodcast/258c7619-3cb2-462c-9727-a3368be85a46
Episode Two is available to download or listen from https://play.acast.com/s/moorethanjustapodcast/0c7fc645-72b5-4aa2-8645-a79786ff9e1a