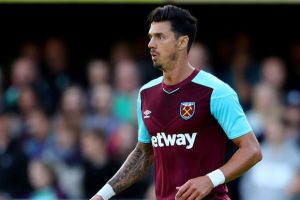 Jose Fonte has revealed that he will be out of Hammers action until next year!
The central defender has made it clear he won't play again in 2017 and is set to miss "two or three months" of the current campaign.
The Portuguese defender hobbled off in the in the 76th minute of the game against Palace and  was replaced by Declan Rice.
Fonte admitted that he was unhappy to receive the diagnosis on his injury but called on his teammates to deliver a big win against Liverpool after making it clear he was a long term injury victim.
He explained the position in an Instagram post declaring: "Difficult to digest. But with my mind already focused on a quick recovery!!! I will be back stronger in 2 or 3 months.
"I look forward to the grind!!! Big win tomorrow would definitely help."