West Ham may have suffered another big defensive blow with news that Vladi Coufal has been diagnosed with plantar fasciitis in his heel.
There's a possibility too that the Czech defender could be out for "months" and may undergo surgery after sustaining a heel problem, according to injury specialist  Ben Dinnery.
He added that the injury had no specific recovery timer attached and that it may be weeks rather than months.
The news of the injury was revealed by David Moyes ahead of last night's win over AEK Larnaca and will clearly leave a big worry for the manager ahead of yet another hugely critical match against Villa on Sunday.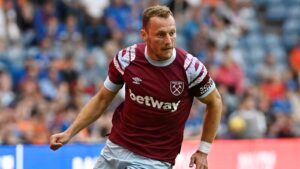 Speaking to GiveMeSport [9 March], Dinnery explained : "With plantar fasciitis, it is really difficult to put any kind of definitive timeline on it. Potentially, he could be looking at anything from weeks to months.
Assuming no further injuries it probably means that Ben Johnson – left out of last night's game – will move to his natural position on the right side of defence with Emerson taking over from Cresswell on the left.
Coufal has been unlucky over the last two seasons with injuries and this one comes at a time when he was beginning to look back to his best.