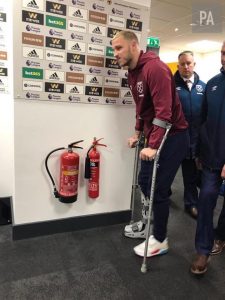 Marko Arnautovic  is set for a scan within the next 48 hours on the foot injury he sustained against Wolves in last night's 3-0 defeat at Molineux.
The striker – making a long awaited comeback after the Chinese transfer saga – left the action in the second half seemingly unable to put any weight on his right foot.
He was put into a surgical boot for precautionary reasons until any damage can be assessed according to a club insider talking to us by e mail.
And when images emerged of him on crutches after the game leaving the ground fears grew that he could spend a long spell on the sidelines.
He will be examined today and scans could follow but at this stage insiders are hopeful that things are not as bad as may have first appeared.
Arnie looked off the pace and unfit during his time on the pitch and the injury was the final straw of an awful night but CandH will be keeping a check on the situation throughout the day.
Meanhile keeper Fabianski is unable to straighten his arm after a second collision and said: ""At the moment, I'm struggling with my arm in all honesty.
It feels very sore and I can't really straighten it. It will probably take a couple of days to settle. Hopefully I will be fine."