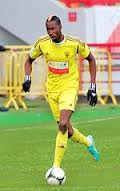 We've had a couple of well placed people ring us this afternoon with news of the Lacina Trahore loan situation.
It seems that despite all the well publicised and so called "problems" over fitness and injury, the club are looking to get things sorted by perhaps as early as next Monday.
The facts are that the guy is on a pre-season break from the Russian League ahead of joining Monaco and thus isn't up to speed as far as PL fitness levels are concerned …but there's no injury worry!
The second call we received said the club was confident of doing a deal at around £45,000 a week or just over half a million quid for the three months.
News leaked out of Saints this afternoon that no player will be allowed out of the club in January which appeared to end any chance of us landing Ricky lambert thus adding urgency to the Trahore situation