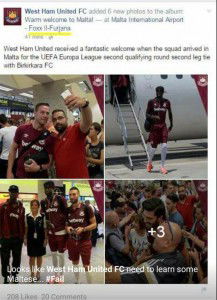 You really do have to feel sorry for the Hammers after a storm in a Maltese teacup escalated into national headlines across the island this evening.
The Times of Malta are reporting that West Ham got off on the wrong foot with local Maltese football fans after the Irons unknowingly offending Maltese football team Floriana FC on Facebook.
The club uploaded a photo album of their players' arrival at Malta International Airport. However,it had a a location tag seemingly created by a group of football fan pranksters eager to have a dig at Birkirkara rivals Floriana FC and using an untranslated F word.
The expletive  in Maltese against Floriana  was quickly removed when the club realised its  mistake, but not before it was shared across social media. ' Screen shots of it are still doing the rounds.
The Maltese Times say most Maltese online commentators saw the funny side of the status, while pointing out what it really meant, but Floriana vice president Matt Paris was fuming. "It's shameful," he wrote, "that an English Premier League club engaged in this sort of attitude. West Ham United shame on you."
To add more embarrassment the team are actually staying in the town of Floriana at the luxury Grand Hotel Excelsior.
One Floriana fan saw the funny side posting "I think you owe our brothers Floriana a player on loan or something We would accept a sponsor. Good Luck'
Like we say – a storm in a Maltese teacup and as for Mr Paris – as we say dahn "ere: 'Get a life geezer.'