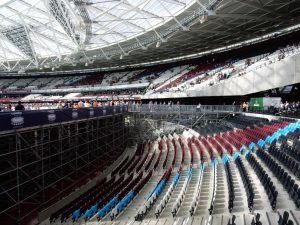 A blunt "don't listen to transfer window nonsense" was delivered to CandH this afternoon from one of our most highly placed sources.
As the desperate hunt for hits goes on in a time when nothing at all is happening in the transfer market – and nobody knows when it will open – some crazy so called stories have been emerging.
But we were told categorically earlier – at the same time as being told there was nothing going on with Declan Rice – that the club has received no inquiries from anywhere for anybody.
We were told on e-mail: "Most of the stuff you will read is either imagined, invented or planted by agents worried sick at the prospect of earning next to nothing this summer."
He added: "There's only a 50 per cent or less chance of the season restarting, no income, no sign of a transfer window opening, every club seeking player wage deferrals whilst apparently at the same time according to some having  millions to spend on player deals.
"It is of course ludicrous although doubtless entertaining to some. The reality is most are worrying themselves to death about how on earth we are going to get through this. So you are better off ignoring all this daft speculation for now."