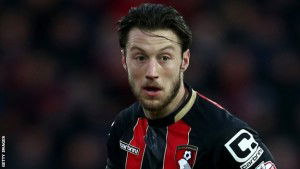 West Ham are set to go back in for Bournemouth midfielder Harry Arter in the summer after the Bournemouth midfielder made his feelings known on being thwarted from moving in the winter window.
Arter  has started just 11 games out of the 26 in the Premier League this season and was left unused for the last five. He's not a happy boy!
He is strongly fancied by manager David Moyes and the Hammers went in with a £15 million bid as the winter window opened but Bournemouth boss Eddie Howe immediately batted them away being unwilling to sell to a club he would have seen as a fellow relegation rival at the time.
Arter however made his displeasure known saying: "When a player my age is not playing and someone who is desperate and just loves playing football, there comes a question over whether long term it is going to the right place for me. Ultimately if I am not playing, there has to be a change."
He was known to fancy a move to West Ham strongly and were the club to go back in a deal at around the £15 million could be done despite him having a contract until 2017.