Man City U 23s 0 Irons 1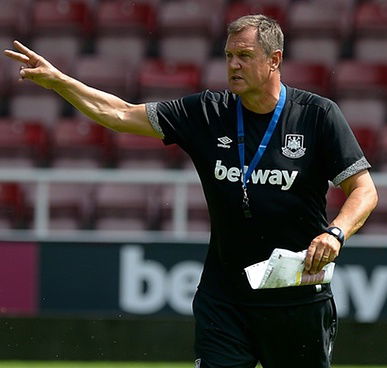 Proud  academy boss Terry Westley hailed his team's victory over Manchester City on THEIR manor as "possibly our best performance all season."
Marcus Browne thumped home a magnificent 25 year free kick to set the Irons on their way to a quite magnificent performance against a City team that had won their last three games.
And afterwards he told the official site: "That was Manchester City's best team that they could put out. We spoke to their staff before the game and they thought that was the best team they've fielded all season, so we knew how good we were going to have to be to stay with them."
He added: "I have to say to both teams that it was a high-quality game. In and out of possession, you have to be at your very best throughout the whole 90 minutes, and we matched them. We scored a great free-kick through Marcus Browne and the sum of our football was scintillating.
"Sometimes you can be very good with the ball, and not do the job off the ball. You can get wow moments, but the game is 90 minutes long and you have to play when you haven't got the ball. We saw that tonight in all of our players. I think it took that tonight to match this team. We needed everyone at their best and that was as good as I have seen us play.
"We said in the team meeting beforehand that everyone had to do their job, and do it at their very best, and I think we saw that right across the team."Nathan Holland in the first half absolutely tortured their right centre-back, so much so that in the end they were forced to make a change.
"Trott made big saves, Pask was immense at the back, but Tunji beside him was very, very good. We were brave because we went and marked man-for-man, leaving Tunji on his own at the back at times, with Pask stepping right into midfield.
'We were dangerous on the counter attack and could have been three up inside 20 minutes, but they were just one moment away from getting back in the game. We showed real resilience tonight and it was a terrific advert for U23 football. We're delighted to come out on top."