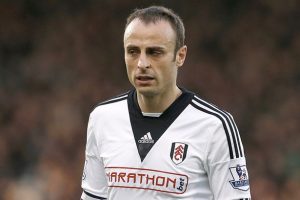 West Ham have tonight ruled out new speculation the club is on the verge of signing club-less former Manchester United striker Dimitar Berbatov.
Berbatov – who also had spells with Spurs and Fulham – has been without a club since departing Greek outfit PAOK last summer and has regularly been linked with a Premier League return.
The Hammers have been named as favourites to sign the 36 year old but our senior source revealed earlier this evening there is no chance of the Irons making a move for him.
He said: " This one keeps coming up and the story doesn't have even a grain of truth in it at all.
Dimitar has been a good player but he's too old for us and has scored very few goals in the last few seasons.
Quite apart from anything else, the club has its quota of 25 players and couldn't sign him under the rules. Only clubs with under 25 players might have a vacancy for him."