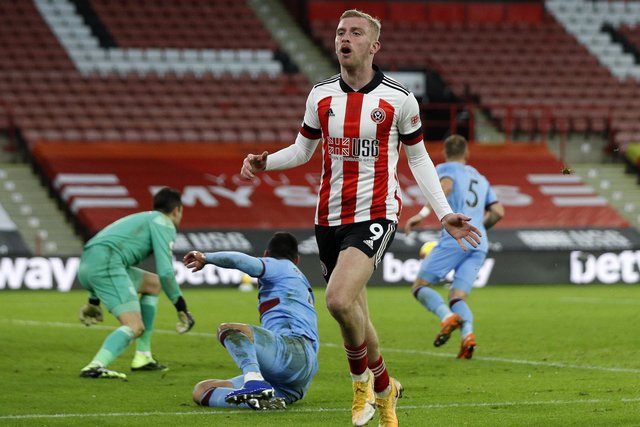 Claret and Hugh have learnt that Sheffield United strike Ollie McBurnie could be of interest to David Moyes in his search for a striker this summer.
The 24-year-old joined the Blades from Swansea City in 2019 for a transfer fee of £17.5m rising to £20m. He had joined the Welsh club in 2015 for just £250,000 from Bradford City where he spent three years in their Academy.
The Scottish International striker was born in Leeds which where he started his youth football career in 2013 before switching to Bradford.
Following Sheffield's relegation from the Premier League he has been linked to a summer move to Glasgow Rangers but is thought to be open to offers from Premier League clubs.
McBurnie has a bit of a bad boy image after getting in a number of scraps in his personal life in the last few years.
In 2019 he was caught drink driving and later fined £28,500 and banned from driving for 16 months.
In 2020, McBurnie was warned by the Football Association for his conduct amongst Swansea City supporters whilst attending the South Wales derby when he allegedly made a rude gesture towards Cardiff City fans. This he was arrested following the circulation of a video on social media purporting to show the footballer in an altercation with a man in the street has been released on bail pending further enquiries.
He could be available as little as £10m as he looks to re-start his career and put his troubles behind him.
The frontman scored seven goals from 36 starts for the Blades but has so far failed to recapture his form when he scored 22 goals from 39 starts for Swansea.
He missed the final few weeks of the Premier League
season after suffering a foot stress fracture but is expected to regain match fitness in time for a full pre-season.
We know David Moyes is a strict disciplinarian and loves a challenge so it is interesting if this one has any legs.
The Yorkshire based source insisted McBurnie is just one of many striker targets the West Ham manager is pondering.