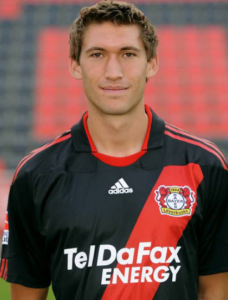 According to reports in German daily newspaper Rheinische Post, West Ham are are in early talks with Bayer Leverkusen for 26 year-old defensive midfielder Stefan Reinatz.
Rheinische Post says West Ham see Reinartz as a replacement for on-loan midfielder Alex Song.  The Germany international is said to be open to a move to the Premier League
Along with the Hammers,Eintracht Frankfurt, Hamburg SV, Borussia Mönchengladbach and FC Köln are also said to be tracking the German midfielder. He has scored 11 goals in 141 appearances for Bayer Leverkusen
He came through the ranks at Bayer Leverkusen but made his professional debut while on loan with FC Nuremberg in 2009.  Reinartz has been a German international since U16 level and became a regular for the U21's in their bid to make the 2011 European championships. He has made 3 appearances for German senior team since 2010.