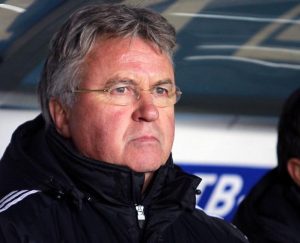 West Ham are drawing up a list of candidates to take over from Slaven Bilic after the disastrous events of Friday night and Brighton.
The club knows it has a serious problem and is quickly looking at limited options but the promotion of Terry Westley as even a temporary replacement while the club looks at longer-term candidates is not one of them.
One of the possibilities being considered is an approach to veteran coach Guus Hiddink on a short-term contract whilst the club look for their ideal long-term candidate.
Calls have been put out to various intermediaries (agents) as the Hammers look to solve their crisis but with many candidates already employed their position is extremely difficult.
Leading candidates such as Manuel Pellegrini, Rafa Benitez, Sean Dyche and Roberto Mancini are all employed with the former Manchester City boss only joining St Petersburg in June.
So it looks more probable that should the board dec
ide to axe Bilic the chances of a caretaker boss taking over until the end of the season are high.