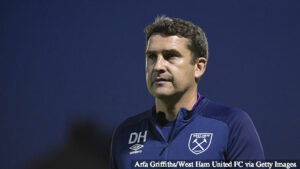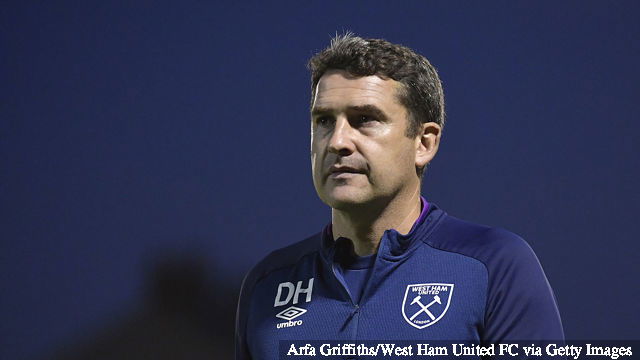 Dmitri Halajako is readying himself for another tough test when his Under 23s take on  Middlesbrough on Teesside tonight looking for their 15th undefeated excursion on the bounce.
They have arrived at this amazing point to claim second place in Premier League Division Two whilst Boro are in fourth and have only been beaten once this season.
Of course the run of results takes in pre-season and it is the perfect reaction from the team which was relegated from Division One last term.
Now with the former academy director Terry Wesley and coaches gone the club has responded incredibly well to the new man at the academy helm and his team.
They were even involved in an amazing game at Newport earlier on in the campaign when they ran out 5-4 winners in an extraordinary scrap.
Tonight they face another tough affair with Boro sitting in fourth place and our boys in second.
Said the Hammers lead coach: "I don't think I've ever had an easy game against a Middlesbrough team. They're always going to be well organized, always going to be hard-working, they've always got some players who've got real quality."
A better second-half display from the Hammers gave Anthony Scully two goals in quick succession to seal the three point win against West Bromwich Albion in the team's last excursion  and Halajko is hoping that the boys can start  quicker tonight than they did against the Baggies.
"If we perform like we did in the second half against West Brom, then we should have a positive outcome. It's two games in four days so it'll be a physical and mental test from that point of view. You never go up to Middlesbrough and have an easy game, so you know it's going to be another tough one and we'll have to be at our best."
Anthony Scully is in incredible form right now and has bagged five goals home in his last four appearances after an injury-ravaged season last term.
"Anthony Scully's top scorer now since he's gone into that No9 position," said Halajko. "He's really made it his own. He's scored four, five goals now, and he could've got three tonight – he looks like a real, real threat, a predator, in and around the box. We're really happy with his progress and he will be as well."