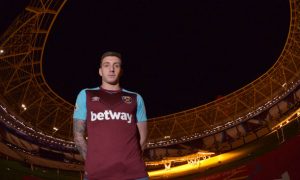 Jordan Hugill will be the first player out of the London Stadium this summer so long as the Irons can find a buyer at a realistic price.
David Moyes brought the striker in from Preston North End at a price of £10 million but the Irons realise they are now  likely to take a hit on the 25 year old who has seen next to no action.
He has found first team opportunities hard to come by and is yet to start in the Premier League with his only appearances coming a few minutes at a time against Brighton, Watford and Southampton.
The 25 year old arrived at the club after scoring eight goals in 29 appearances for Preston and now looks set for a return to the Championship although there have been no inquiries for him at this point.
His arrival is a very hard one to fathom and it is bizarre that he should clearly be on his way after just a few months and so little action.