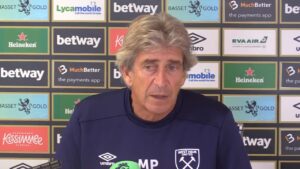 he old cliche that there are no easy games in the Premier League has never been truer than this season and with Palace on the way this Saturday evening there can be no relaxing for the Hammers.
We are unbeaten against the south London outfit on eight occasions in the Premier League since 2015 but with Roy Hodgson's team one point behind us in the table this is no time for slip ups.
It will be very tough on the face of it with the visitors having beaten Man U away,  Villa and Norwich; drawn against Everton and Wolves and been thumped 4-0 by Spurs.
The Hammers though have shown incredible resilience and the ability to get behind teams as they have risen into the nose bleed country of fourth place behind only  behind, Leicester, Manchester City and Liverpool.
So we will expect much the same team as we saw complete a fine comeback against Bournemouth at the weekend continue on their top dour seeking ways at the London Stadium.
We remain confident the Irons will gain be ready to do the business given the new steel in their set up and make it nine up against Palace.