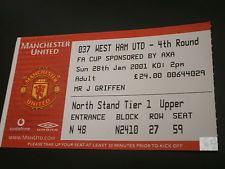 If West Ham do manage to sell all 9,000 away tickets to the FA Cup quarter-final with Manchester United at Old Trafford in March, it will become only the third time in our club's history to match the record away attendance of 9,000 (excluding neutral grounds such as Villa Park, Wembley and the Millennium Stadium in Cardiff).
On 28th January 2001, West Ham took 9,000 travelling fans to Old Trafford to watch Paolo Di Canio score the only goal to make it one-nil to the Hammers in the FA Cup Fourth Round.
West Ham Team: Hislop, Tihinen, Stuart Pearce, Dailly, Schemmel, Winterburn, Lampard, Cole, Carrick, Kanoute, di Canio. Subs: Forrest, Potts, Moncur, Ian Pearce, Soma.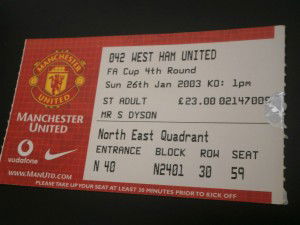 Two years later, the Hammers took 9,000 supporters again up north to watch another FA Cup Fourth Round against Manchester United  at Old Trafford, but this time, it ended in a 6-0 embarrassing defeat for the Irons on 26th January 2003.
West Ham: James, Lomas, Breen (Dailly 80), Pearce, Minto, Bowyer, Cisse (Garcia 80), Carrick, Sinclair (Johnson 80), Defoe, Cole.
Were you at either of these Old Trafford games in 2001 or 2003? If so, drop us a line with your memories of the day/s.
No record books of West Ham's largest away attendances exist to our knowledge so we are trying to compile one. If you know of any other away attendances 5,000 and above drop us a line or leave us a comment.  The recent 7,235 happy Hammers fans at Ewood park for the BlackBurn Rovers win is right up there with the highest attendances and our Championship league game against Coventry away with 6,313 fans making the trip in 2011 was another win in front of a large West Ham travelling army.