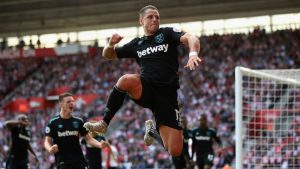 West Ham will not be allowing Chicharito to move to Valencia on loan.
And they have made a decision that no other member of the squad will be leaving on the same basis this winter.
With the transfer window due to open in a few days the usual speculation has started but it certainly won't be situation normal at the club where general entrancing and exits have been on the cards in the past.
We wrote  immediately after the Chicharito  speculation in The Sun began that it was crazy talk and very unlikely to happen given our own difficulties up front.
And after contacting our senior source by e mail we were told that there would be no departures at all on loan with him telling us: "Nobody will be leaving – nobody at all."
Manuel Pellegrini hold Chicharito in high regard and sees him as a key player in the second half of the season.