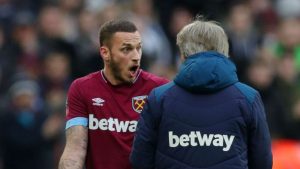 Marko Arnautovic's hopes of leaving West Ham in the January window for China appeared to be fading this morning.
The club is digging its heels in on the basis of the latest information received from ClaretandHugh's insiders.
And it seems that even were the Chinese club – believed to be Shanghai – to up their offer of €35 million, or another club were to come in, – there is little chance of the Irons sanctioning the move.
With top striker targets unavailable at this time of the year and the money on offer being seen as miserly for such a quality player, the Hammers are in no mood to be held to ransom.
Commenting on the current situation to CandH this morning a top London Stadium source told us by e-mail: "Hers got 3.5 years left on his contract, plus years option.
He'll NOT be sold in this window given all the circumstances."
In response to our question on whether he will be offered a new deal to counter the Chinese interest our source said: "That will be reviewed in the summer."
Obviously were the Chinese to up there offer by a CONSIDERABLE amount it could cause a rethink but it seems the club has made its mind up for now.
And it suggests that Manuel Pellegrini – with whom the decision laid according to our insiders – has decided the striker has to stay until the end of the season.