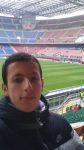 Arthur was back for his first game of the season following the signing of a new contract.
As expected the manager left Creswell out – for whatever reason decided on Ogbonna as skipper – leaving Arthur to use his pace and skill in the left sided role.
Our PlayerWatch reporter Danny Leach was there to take a look at the guy who is Marmite to many performed on his first team return.
5 – Takes on Montoya and knocks the ball past him as he tries to beat him but only loses the ball
7 – Holds the ball up well but he loses the ball as his pass is deflected off Gross
11 – He beats Gross and wins a throw in as Montoya tackles him
14 – His cross is blocked by Propper
15 – He tackles Propper and retains the ball very cleverly as he flicks the ball over him
21 – Makes a horrible clearance with his right foot which falls to Stephens on the edge of the box but his shot is saved by Fabianski
27 – He is caught in no man's lands by not really marking anyone as Trossard's goal is ruled offside. However, Ogbonna could have blocked the incoming cross from Burn
52 – He dribbles on the left hand side but loses the ball to Gross
Verdict – 5 – It was quite an underwhelming display from Masuaku who generally struggled against the Seagulls attackers and midfielders. While always looking to be a threat going forward, he too often lost the ball whilst breaking into the attack. His defending and discipline is not up to the standard expect and against better opposition he would have been punished more heavily for his mistakes. Apart from having some neat skills up his sleeve he must up his game if he is to succeed in Pellegrini's team.