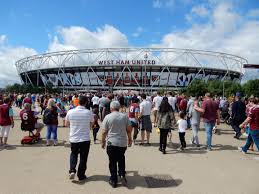 West Ham United's first two Premier League fixtures in May have now ben changed for broadcasting purposes.
The Hammers will travel to Burnley on Bank Holiday Monday, 3 May, for an 8.15pm kick-off. This match will be broadcast live in the UK by Sky Sports.
And I will be looking for three points as a birthday present from the boys so come on you Irons – this one is for Hughie …LOL.
The squad then return to London Stadium on Sunday 9 May, when they will face Everton at 4.30pm, also live on Sky Sports.
Dates for the away fixtures which follow, at Brighton & Hove Albion and West Bromwich Albion, will be announced in due course.
The season will then conclude at home to Southampton, with a 4pm kick-off on Sunday 23 May.
With the country remaining under COVID-19 restrictions, the Premier League confirmed in February that all remaining fixtures in the 2020/21 Premier League season will be broadcast live in the UK by their broadcast partners Sky Sports, BT, Amazon Prime Video and the BBC.
However, there remains the possibility that further lockdown restrictions could be lifted in time for the game against  Southampton with the plan currently for that to happen on May 17.
The club already has plans in place for the ballot should that be the case with the hope being as many as 10,000 may be allowed into the stadium.