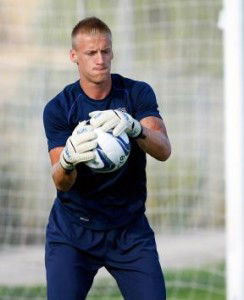 West Ham's Goalkeeper target Daniel Bentley has revealed he is to be offered a new contract by Southend. The shot stopper made two stunning saves during a dramatic penalty shoot-out to help Phil Brown's side secure a memorable victory in Saturday's play off final against Wycombe Wanderers at Wembley.
The 21-year-old, whose current deal expires at the end of next season, is now set to be rewarded with a new contract in a bid to see off other admirers including West Ham.
"It is my understanding that I will be offered a new contract," revealed Bentley to the Southend Echo.
"My agent and I will be sitting down with the club to talk about it all and I'm happy to do that.
"I know there has been a little bit of speculation about my future but I'm very happy with what we've achieved this year and I enjoy being a Southend player.
"I only ever focus on what happens on the pitch but right now I'm also making sure I enjoy this promotion we've just won as well"