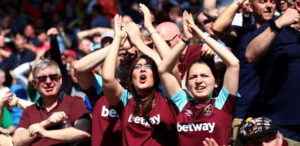 What a difference a week makes!
A week ago it was difficult to see where West Ham's next point was coming from and now we have four  from four games.Confidence is high again.
West Ham are now four points clear of the relegation zone in 16th position, actually equivalent of five points if you count the big goal difference we have to our advantage.
The bottom four teams have carried on their self destruction path helping West Ham even further and while it is too early to get complacent, the writing very much seems on the wall  for the bottom four to fight out the three relegation places.
Norwich City seem all but down a full ten points behind West Ham and would have to win most of their remaining games which looks unlikely as they haven't won a game since February.
Bournemouth seems destined for relegation also with five defeats on the bounce and also haven't won since February.
They have Spurs and Man City next followed by Everton, Leicester City and Southampton and it difficult to see how Eddie Howe will get out of his poor run.
Villa too seem in trouble with only two points from five games with their win coming in January against fellow strugglers Watford.
The Hornets  have managed just one point from four games since football restarted, their last win also coming in February when they bizarrely beat Premier League champions Liverpool 3-0.
Watford face Norwich, Newcastle, West Ham, Man City and Arsenal and might just be able to avoid relegation by finishing 17th place but they must beat Norwich to have a chance.
I don't want to jinx us but I think we will finish 16th place or above with our run in against Burnley, Norwich City, Watford , Manchester United and Aston Villa.  I also think we will at least hit that magic 40 point mark!