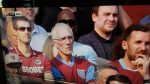 By Allen Cummings
How many of us sat watching the Wigan v Southampton cup tie with our 'wannabe' managerial hats on?
I studiously assessed our next premier league opponents, trying to weigh up what we faced in possibly our biggest game of the season so far.
On the face of it the Saints' victory over a team that had not only seen us off, but beaten Bournemouth and the Premier League's best team Manchester City, was pretty impressive.
But was the score line a true reflection of the game? Not in my mind. In the first half Saints looked every bit a team floundering at the foot of the table, lacking confidence and conviction with nobody wanting the ball. There was nobody who looked as though they believed they could win the game. (Sound familiar).
Wigan should have been at least a couple of goals to the good by the break. Only a lack of good fortune denied them that reward. Saints were  better after the interval. And full credit to them, they took their opening goal, the game's turning point, well. But they still rode their luck on occasions, until the killer second went in.
So what did that performance tell us about the game and the opponents we face in a couple of weeks' time? What have we to fear? Of What should we be wary? Personally I believe those three vital points are there for the taking.  I saw no world beaters in red and white stripes yesterday. With the exception of Bertrand, there wasn't anyone in that starting line-up I would prefer to what we have in the West Ham side.
Despite all the moans and groans about our squad, it's not short on quality or experience. Sadly it's not the quality of the players that's really let us down this season. It's their attitude, their application. And in particular their response to going behind which has been nothing short of appalling.
Heads have consistently dropped at the slightest set-back. Their ability alone is more than enough to see us safe, if they apply themselves properly. On the evidence of yesterday, and the season so far, Southampton should really hold no fears for us.
The game is all about mindset and as I see it that's the biggest challenge for Moyes and his staff. Get the side in the right frame of mind. Make them believe they can do this. Set them up with a positive look and a positive feel. Make them believe this is a game they can win and they will win.
Then give them the licence to go out and prove it by killing off the Saints.