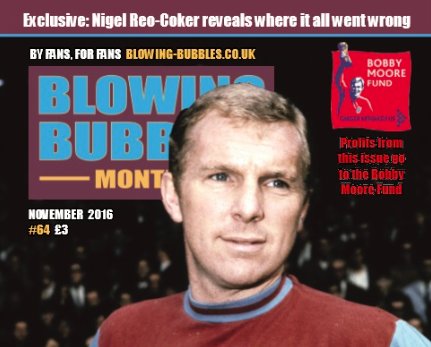 Ex-Hammers captain Nigel Reo Coker has pointed to the lack of British players in the team being one of the reasons behind the club's poor start of the season.
In a wide-ranging interview with the monthly magazine, which is donating all profits from this month's issue to the Bobby Moore Fund, Reo Coker has compared the side he captained, aged just 22, in the 2006 FA Cup final to today's squad.
Now captained by Mark Noble, who broke into the first team during Reo Coker's time as skipper, the former Hammers man believes Mr West Ham needs more support.
"West Ham have a very talented squad but the difficult thing is he's one of the very few British players," Reo Coker told Blowing Bubbles.
"If there were a few more around him, they'd be able to get the message across to some of the others about how serious this situation is.
"For certain clubs, like West Ham, you really need three or four experienced English players in the team, who really understand what it means to play for that club, and to make some of the newcomers know, to make them pull their socks up."
Elsewhere in the popular publication, which supporters can get hard copies of at the entrance to the Olympic Park outside Westfield on Saturday, Conservative MP Damian Collins calls for Bobby Moore to be made the first ever recipient of a posthumous knighthood
"This year is a very special anniversary of what is one of the iconic moments of 20th century sport, so we as a country should do something appropriate and significant," said the MP for Folkestone and Hythe, who was elected
chair of government's culture, media and sport committee last month.
"Bobby Moore is one of the central figures. Had he lived, he would have been knighted and received the recognition that others have, so I think some posthumous recognition would be a fantastic part of the celebrations of the anniversary."
Meanwhile, following Dimitri's Payet wonder goal against Middlesbrough, Brian Williams gives his favourite 10 West Ham goals that took his breath away.
George Parris questions how many more chances Slaven Bilic will give Simone Zaza and hopes he finds his shooting boost quickly.
"I appreciate that it is tough to play in the Premier League. It's certainly more physical over here than in Italy and Spain and players need to adjust but we're now in November and he still hasn't scored for us," he wrote in his column.
Blowing Bubbles also focus on Pedro Obiang's extraordinary efforts to secure a first team place,
They also ask if signing a defender like Ryan Shawcross would be good for West Ham and reflect on the jewel of West Ham's golden generation, Michael Carrick, ahead of possibly his final game against West Ham.
Those living in Europe and further afield can also pay for a hard copy on the same page as well as securing a subscription to receive future issues.