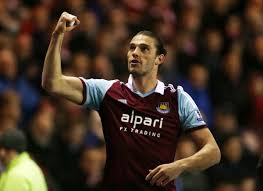 West Ham United will pick up another massive Andy Carroll medical bill following surgery to the ankle injury which will keep him out of action for up to four months.
After sending him to top medics for months of the best attention on his planter fascia injury last season, the club have brought in the best consultants  for advice on the long term ankle problem.
ClaretandHugh has learned that the problem on his ankle is around five years old and this morning a source revealed: "The attention and surgery Andy has received should sort this problem permanently.
"The problem has been that the ankle is loose and can collapse quite easily. It's been quite a long standing issue because it means it twists quite easily. It goes back a few years.
"However, this has now been dealt with and he should have no further problems with it. We have a long term solution.
"It's true we are having to find solutions for problems he's suffered down the years – we are picking up the pieces.
"But once he is fit from this injury everything will have been solved and we will have a great player around for years to come."
Follow on Twitter @hughsouthon