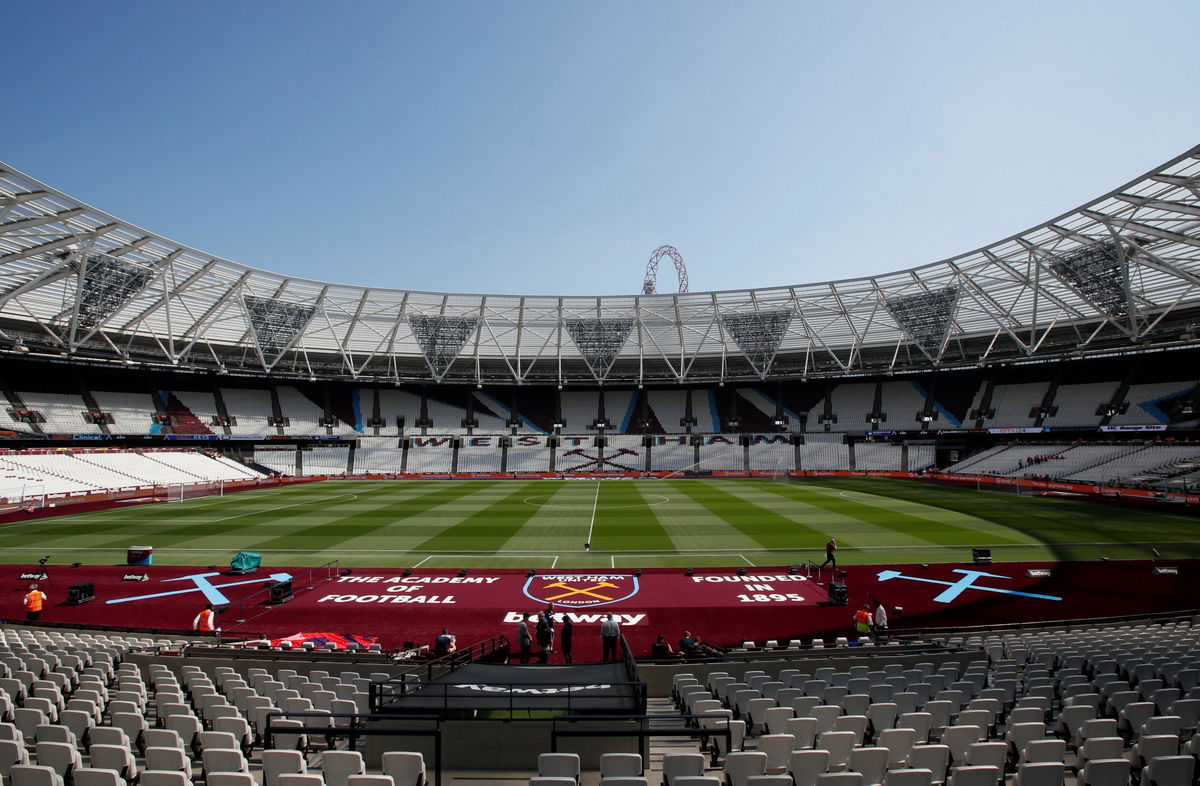 West Ham hope to have 16,500 fans back in the London Stadium once the government lifts the current tiered restrictions which limit Tire 2 areas to just 2,000 supporters.
However, that proposal remains in the balance with MPs due to vote on the issue in the House of Commons this week with some reports  suggesting a mass revolt by Tory MPs and Labour still to announce its position.
Minutes from the Newham led Safety Advisory Group from late September reveals that stakeholders were working on Sports Grounds Safety Authority SG02 Method 1 which allows is one metre centred distance between spectators.
The London Stadium has 66,000 seats so taking out every other row to social distance vertically reduces the capacity to 33,000 and taking every other seat to social distance horizontally reduces the capacity in half again to 16,500.
The induction of social bubbles allowing supporters from the same household to sit next to each other could increase that capacity but would be difficult to manage.
The Newham minutes say "Movement Strategies (MS) collaborated with the SGSA in the construction of SG02 Method 1 which is a one metre centred distance between spectators. MS are working closely with WHUFC to formulate bubbles for season ticket holders. It was noted that the use of 66k seats has not been agreed and pending approval from the issuing Authority.
Internal and external concourse plans shared and further workshops to be carried out with LS185. The plan is to achieve the highest number of spectators. A throughput value of 283 spectators per hour has been adopted as a basis for this analysis. This is derived from adapting the Green Guide rate of 300 spectators per hour to account for social distancing.
Detailed overview assumption of arrivals and flow into the stadium reviewed and debated. Analysis of sanitary facility usage during peak fifteen minutes half-time period, with full Covid-19 control measures shared in detail covering various scenarios and queuing format. Extra mitigation and control measures need to be reviewed as hand sanitisers alone will not be sufficient. Movement Strategies announced they need to update the seating capacity to populate the bowl which is will have an impact on the SG02 calculations, review social distancing for egress operation to understand the impact on the transport hubs and concessions at half time ensuring social distancing compliance and overlay with sanitary facility queues. Work will be carried out to give assurance that all assumptions will be tested"
London Stadium stakeholders are likely to use the 2,000 supporters granted from December as test events in the hope they can scale up to 16,500 early next year.
You can read the full Safety Advisory Group minutes at https://www.newham.gov.uk/downloads/file/2524/ssag-minutes-21-sept-2020-final
The full SGSA guidance can be read at https://sgsa.org.uk/wp-content/uploads/2020/08/SG02-Planning-for-Social-Distancing-at-Sports-Grounds.pdf