Leicester City 1 Irons 0
Match verdict
Well let's be honest. They deserved something didn't they?
But if ever a game showed you what's wrong with the Hammers in the year of celebrity deaths it was the lack of a killer striker and I'll tell you this – Andre Ayew is never going to be one!
We started badly with Leicester creating plenty before Slimani who had served notice by hitting the far post earlier, thudded an unstoppable header past Randolph.
Slowly we came alive with Antonio hitting the bar as the Hammers pushed forward time and again and in the second half we really should have made the pressure pay.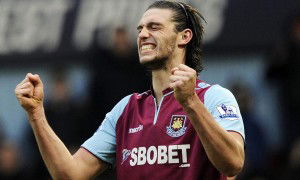 It was really difficult to understand why we weren't throwing far more into the box at AC.
He was getting the wrong service with balls from the back rather than the sides and when towards the end he did get a near perfect cross in from Cresswell his header was inches wide.
We played plenty of decent football and the confidence is obviously rising but we need to up the tempo and make things happen more quickly.
Dimi Payet was again disappointing but a special word for Havard Nortveidt who has recovered from a poor start at the club to become a decent back four man.
However, a quality striker is a must if we can find him in this window but despite that I'm putting my head on the block because I have an insistent feeling that we will beat Man U on Monday evening.
COYI