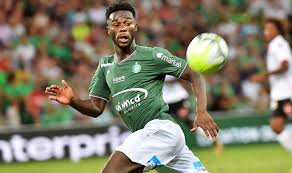 Saint Etiene's Jonathan Bamba will wait on West Ham's Premier League fate before committing himself to the east end!
The 21-year-old comes out of contract in the summer after being tracked by the Hammers this but admits his future remains in doubt.
With the club unwilling to meet his demands, a free transfer can be expected.
His manager, Jean-Louis Gasset, pleaded with the club that as St Etienne's top scorer the club held onto him for the rest of the season. He has also recorded the the most assists.
The Hammers are very keen along with Palace and asked about his future the player said: "It's still not sorted. I'm waiting and I hope that it will sort itself out soon".
The Hammers are ready to make an offer to the player but until survival has been assured little progress can be made on the deal.