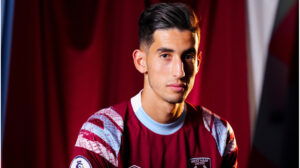 West Ham's fears that Morocco may call on central defender Nayf Agiuerd for the quarter final World Cup match against Portugal weren't realised this afternoon.
The Hammers £30 million signing was left out of the squad seemingly ensuring that he will be rested until entirely fit.
Aguerd was injured in the match against Belgium in the last 16 game against Spain four minutes from the end of the game.
And although it was believed he had a groin problem Claret and Hugh revealed that ub fact he has suffered a minor thigh injury which usually takes between a week to three from which to recover.
However, there were fears that the Moroccans would use him earlier than we would have hoped – an issue which could have extended the problem to six weeks.
Instead he has not been selected and that was met with relief inside the London Stadium where we were told: "We are of course sorry for his national team but very thankful for ourselves."