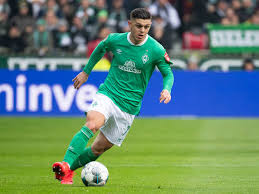 West Ham and Wolves are among the many top-flight teams vying to be reported as  vying for Werder Bremen's Milot Rashica
The reality is of course that whilst he might be on the 'fancied' list, no club is in the process of moving on anyone – or indeed can – whilst the transfer window remains closed ahead of a highly optimistic Operation Restart bid.
However, the Kosovo international has impressed in the Bundesliga this season, scoring seven goals in 18 league appearances and we will get the chance to see himon BT Sport  probably when Werder taken on Bayer Monday evening at 7.30 pm appearances.
David Moyes certainly has a long short list of players he will be interested in but it's far too early to get excited or otherwise and prices are going to be absolutely key at a time when finances have never been lower at any club in the world.
Liverpool were thought to be transfer race front runners but have 'cooled their pursuit'according to Sky Sports, although two of the relegation candidates Villa and Brighton are thought to be casting envious eyes.
Bremen are currently 17th, sitting four points from 16th and the relegation play-off, and if they drop out of the league before June 15 then his release clause drops to just €15million (£13m).
That Liverpool have cooled is interesting however because Jurgen Klopp wold know the player well and would clearly be interested if he believed him to be a top level Premier League player.