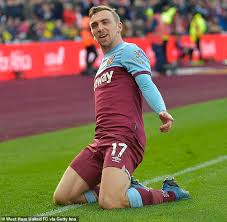 Reports that Liverpool have bid £20 million for Jarrod Bowen are fiction!
The Hammers wideman has become flavour of the week since performing so well in a front role given the absence of Mikey Antonio.
And unsurprisingly that has given birth to some fake news over his future and that Liverpool in particular are keen to take the player to Anfield.
Some reports have claimed that they have already lodged a £20 million bid but when we put that on a key club insider he made it clear the story was 100 per cent untrue.
It's been many years since the Hammers have had four or five players – Declan, Tomas, Vladi, Jarrod and Said – worth fortunes in the transfer window and the club has no intention of selling any of them.
Bowen has caught the imagination of late and thus the headlines but our source said; " The Liverpool story is 100 per cent untrie and there have been no inquiries from elsewhere – nor do we want them!"