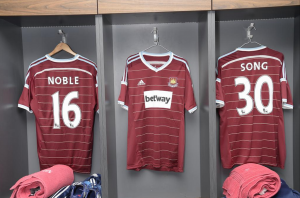 West Ham's new £20m sponsorship deal raises them to eighth place  in Premier League value terms, leap frogging above Sunderland and Aston Villa.
Although it is a big step in the right direction it remains a fraction of what the bigger clubs earn in sponsorship.
1st:  Manchester United  Chevrolet:  8 year deal worth £315m at £45m per season
2nd Manchester City  Etihad 10 year deal worth £400m at £40m per season
3rd Arsenal Fly Emirates  6 year deal worth £150m at £30m per season
4th  Liverpool Standard Charted 4 year deal worth £80m at £20m per season (just about to do new deal at £30m per season)
5th Spurs AIA 5 year deal worth £80m at £16m per season
6th Chelsea Samsung  3 year deal worth £41.4m at £13.8m per season
7th Newcastle  Wonga  2 year deal worth £16m at £8m per season
8th West Ham Betway 3.5 year deal worth £20m at £5.75m per season
Villa have a deal with DafaBet worth £4m per season while Sunderland have a deal with Bidvest at £5m per season.
The surprising deal is Everton's 10 year deal with Chang in 2014 which earns them just £1.6m per season.