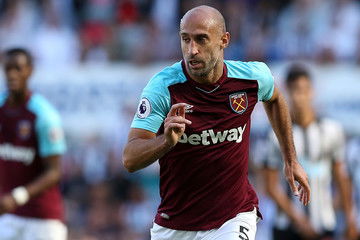 Pablo Zabaleta has made it clear to the squad, the fans and perhaps chiefly Davis Moyes the Hammers have to be positive and go for three points on Saturday.
The safety first approach adopted over recent games – unsuccessfully – needs to go according to Zaba who told the official site: "It's still in our hands. We have to go for the three points in our next game, that's it.
"Leicester lost against their last game against Palace, then we have Manchester United and Everton at home, so it's in our hands.
"Yes, Sunday's result wasn't good, but we have to forget that game, be positive and move into the next game thinking we can get the three points.
"One more win, or four points, could be enough to be safe 100 percent. We cannot wait on Swansea, Southampton or Stoke to keep dropping points. We have to think about West Ham and getting three points."
He added: "We knew Sunday was going to be a tough game – we were playing against the champions, the best team in the league. No excuses, they were miles better than us and now we have to move on to the next game.
"Manuel Lanzini is one of the most creative players in our team. He's not had a good time in terms of injuries, but to have Manu back in the team is good news, so hopefully he can help us get some points in the next games.