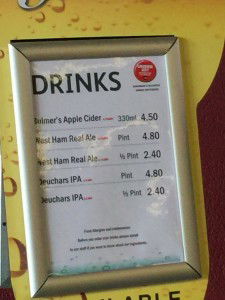 West Ham's profit share of catering profits at the London Stadium is thought to have been limited to just £75,000 for the whole last season from total profits of £750,000. Stadium owners E20 are thought to have received £675,000 in catering profits for last season from West Ham football games.
Catering for the London Stadium is outsourced to American company Delaware North by French stadium operator London Stadium 185. The catering income from West Ham games for the first season in the former Olympic Stadium reached £6m so the profit margin after  Delaware North and LS185 took their cut was around 12.5%.
A Freedom of information request revealed that West Ham v Spurs generated a catering income of £301, 489 last season while West Ham v Bournemouth catering income reached £268,734.
Under West Ham's concessionaire agreement the club share 30% of profits after the initial £500,000 with the remaining 70% going to stadium owners E20.
The £75,000 which the Hammers received is a fraction of the catering income they used to receive at the Boleyn Ground where they outsourced.