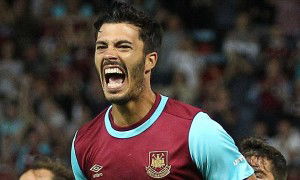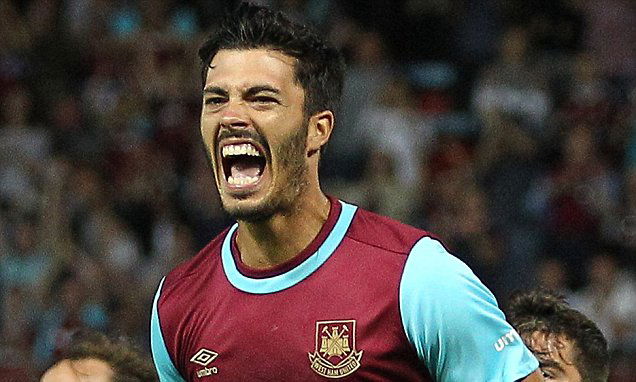 The sale of James Tomkins is the best piece of Hammers player trading we have done in 15 years.
Ten million pounds for a home-grown player who is considered a fringe player and often fourth choice centre back by the manager has to be considered  a fantastic piece of business despite fan sentiment.
And the Tomkins sale shows also that for the first time in many years the club has star performers who are worth an absolute fortune.
Dimi Payet leads the way of course and his Euro 2016 exploits have pushed him into the stratosphere where a figure of £60 million is being freely mentioned although thankfully the message from the club remains the same – he is going nowhere. Payet looks set to lead his country all the way according to Euro 2016 betting odds of William Hill.
Aaron Cresswell could be worth anything up to £20 million whilst Michail Antonio has increased his value bya millions.
Cheik Kouyate is seen as being worth around £25 million, Manu Lanzini could be worth anything and keeper Adrian is one of the best in the world.
None are leaving of course but sometimes it's a good idea to sit back and look at where we are now in comparison to even 12 months ago and beyond.
In 2000/2001 we sold the home-grown Academy crown jewels of Rio Ferdinand and Frank Lampard for a combined £29m of profit.
Since then we haven't fared so well in offloading unwanted players. When we look at players sold for £1m or more in the last fifteen years.
For the record he's a lst of the major sales since 2003-05…we are now in a very different place:
O 2003/2004 we sold Glenn Johnson for £6m, Jermain Defoe for £7m, Joe Cole £6.6m, Trevor Sinclair £2.5m, Frederic Kanoute £3.5m and David James £2m (Kanoute  was purchased for £4.8m)
O 2004/2o05 we sold Michael Carrick for £2.75m
O 2005/2006 we sold Elliot Ward for £1m
O 2006/2007 We sold Nigel Reo Coker for £7.5m and Tyronne Mears for £1m  (Reo coker was purchased for £638,000)
O 2007/2008 We sold Marlon Harewood for £4m, Paul Konchesky for £2m and Yossi Benayoun for £5m
O 2008/2009 We sold Anton Ferdinand for £8m Craig Bellemy for £14m George McCarthy for £4.5m and Matthew Etherington for £2m (Bellemy purchased for £9.5m)
O 2009/2010  We sold James Collins for £5m
O 2011 We sold Allesandro Diamanti  for £1.8m
O 2011/2012 We sold Scott Parker for £6m  (purchased for £8.25m)
O 2012/2013  We sold Nicky Maynard for £1.5m and Sam Baldock for £1.5m
O 2015/2016  We sold Momo Diame for £3.5m, Matt Jarvis for £2.5m and Stewart Downing for £5.5m