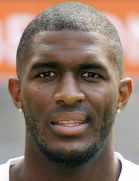 West Ham lost interest in continuing negotiations for Anthony Modeste when they were told it would take £40 million to prise him away from Cologne.
The Hammers were stunned the German outfit rejected £22 million out of hand for a 29 year old and have since pulled out of talks.
Ideally, the club want three strikers this summer – although are more likely to sign two – and have up to £60 million to spend.
We were told: "The club has moved on from Modeste. They were quoted £40 million for a player who will be 30 during the course of the season and that wasn't seen as value for money. In fact it was seen as crazy even with prices having gone through the roof."
It's hard to disagree with that given that 22 year old Michy Batshuayi moved to Chelsea for around £40 million last summer and that Alexandre Lacazette – three year his junior – is set to join Arsenal for around £42 million.