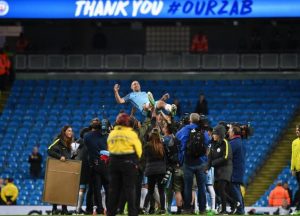 West Ham summer target Pablo Zabaleta wept on the Etihad Stadium pitch on Tuesday night as he bade farewell to the club after nine years and described his decision to do so as the hardest in his career. Zabaleta was bought by the then City manager Mark Hughes two days before the club was taken over Abu Dhabis in 2008.
"I will enjoy the last few days in the club," the 32-year-old said. "There is still one more game to play and we need to win to secure the Champions League spot for next season. I won't be here next season but I wish all the best for this football club."
West Ham is waiting to hear whether the Manchester City defender will be their first summer signing on a free transfer.
The Sun claim the Hammers are offering him a two-year, £100,000-a-week deal to Zabaleta which if true would make him the highest paid West Ham player.