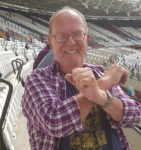 CandH Exclusive by Hughie Southon
West Ham's ownership looks set to be decided by the shares the late David Gold  left to his family.
DG had 25 per cent of the shareholding, making him the third biggest of the board members behind David Sullivan and Daniel Kretisnsky.
Sullivan has 38 per cent and the Czech billionaire  27 per cent and it seems likely that  Gold's will be split between his daughters Jacqueline and Vanessa.
They look set to receive 12.5 per cent each and should they decide to remain part of the club – as no doubt Gold would want – then things will remain very much as they are.
However, there has been much talk of Kretinsky gaining control which means he has the opportunity to make an offer to the sisters which may or may not be acceptable.
However David Sullivan is in the same position and were he to buy another 13 per cent of the late DG's  shares he would again become major shareholder