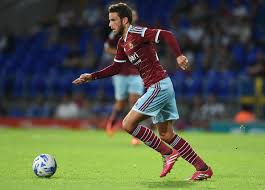 By Rich Sprent
The last three league games have highlighted a multitude of unreported issues!
Yes we've all read about poor refereeing decisions, manager decisions, substitutions, Sam out/Sam in, next manager, injuries, singing, diving and late, late leads thrown away. However, the real story, as ever, is the team.
Look at the table and it clearly shows that West Ham currently sits in eighth place in the Premier League. The team is only a couple of wins away from challenging for a European place. The last three league results have been draws against the 4th, 5th and 6th place teams.
Many would have taken eighth place at this stage before the season started. There is no doubt that the team has progressed fantastically from the mess of the last relegation.
Coupled with the club's shrewd running and with such a low wage to turnover rate, it makes it even more of an achievement. With our best XI on the pitch it requires just a little more to push on and actively be a force in the top six places.
Whether that best XI is deployed in a diamond or a more counter attacking 4-5-1, the team have shown that they are more than a match for the teams above them. The squad is however creaking with a lack of midfielders.
The bench on Sunday had just Kevin Nolan representing the engine room. Diego Poyet has had a calf strain and is only recently back in training. He has not been entrusted in the first team squad as yet.
Morgan Amalfitano still has two games to sit out after his petulance at The Hawthorns. If the three were blended then we'd have the answer. All three however just don't make the grade… yet. For Poyet, there is time to develop. If he does then he will save the club a lot of searching and money.
The defenders are all back in town; Nene is in to cover Carroll and Cole. But why did we not have a plan B for Darren Fletcher failing his medical/deal …cancelled by the board….chose a better deal at Smethwick ?
The arguments for not signing Fletcher were there for all to see. And yet, with no fee involved he could easily have been the difference in turning the last three draws into wins.
Song, Noble and Kouyate work so well together. Song: always available, on the ball, creating space. In effect, he is class. Noble: endeavour, enthusiasm, work rate and an excellent pass completion rate.
He's the heartbeat of the Irons but for him to raise himself to the level above he requires a better player next to him. Kouyate: breaking play up and then making those runs into the opposition box. He compliments the whole team so well. He is always willing and seemingly always there. The three allow Downing to play with freedom at the tip of the diamond at home and be that wide threat on the road.
Next season? For me, Song must be retained. He has had his critics for his performances since the AFCON squad debacle. But this team needs a player of his class. And for Song to shine he needs players around him to be able to play as well.
That fourth midfielder is required urgently. To either challenge the current starters or improve the options off of the bench. Either way, until we can rely on that fourth midfielder, through a transfer or Poyet stepping up, then we will struggle to dominate top six sides for 90 minutes and make that jump to Europe .