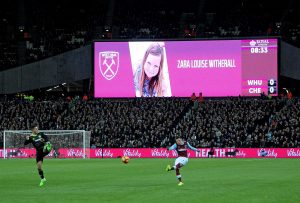 Today West Ham has launched a new policy to curb the amount of one-minute applause's at the London Stadium due to the sheer volume of requests. The club plan to hold two memorial games per season with the first being against Spurs on 6th May.
A Statement on WHUFC.com read:
"Every season, West Ham United are sadly informed of the deaths of many supporters, young and old, from all over the world. Club staff never fail to be moved when a message is received that a member of the Claret and Blue faithful has passed away.
Many of the messages received by the Club are accompanied by requests for tributes to be paid on a matchday, in the form of a minute's applause during a first-team match. However, due to the sheer volume of requests, it is regrettably not possible to formally hold these tributes at every match. The Club will now honour those Hammers no longer with us with a montage of tributes being shown on the big screens at home matches twice a season.
The next montage of this type will be displayed at the Premier League fixture with Tottenham Hotspur at London Stadium on Saturday 6 May. Supporters are invited to continue to send their written and photographic tributes for publication in the Official Matchday Programme by email to programme@westhamunited.co.uk. These will also be collated for the montage video"