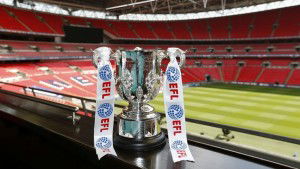 West Ham will give up their share of the gate receipts to the opposing club if they are drawn at home for the EFL Carabao Cup on Thursday as a condition of reversing their second round cup fixture should it be needed.
West Ham managed to get a record capacity 39,877 for the last EFL Cup game at the London Stadium when the Hammers took on Accrington Stanley last season.
The opposition took just 800 away supporters while West Ham discounted tickets down to £5 for kids and from £10 for adults. They also gave away thousands of tickets to Newham residents as part of the giveaway agreement in the contract. In reality, the income for these early League cup is quite small once expenses and VAT is factored in.
Yesterday EFL released a statement saying "In the event that West Ham United are drawn at home in Round Two of the Carabao Cup then they will be given special dispensation by the EFL Board to play the fixture at the opposition's venue, due to a previously agreed arrangement that the London Stadium was to stage the 2017 IAAF World Championships in August.
If the draw dictates this is required, then the EFL Board will determine a level of compensation to be paid by West Ham to the opposing club. No further 2017/18 Carabao Cup ties will be affected in the event that the Hammers progress in the competition and are drawn at home.
An EFL spokesman said: "The Board of the EFL has carefully considered a request from West Ham United and, given the circumstances, they faced when relocating to their new stadium, felt it was wholly appropriate to agree to a fixture reversal."
The Carabao Cup Round Two draw will take place live on Sky Sports News on Thursday 10th August 2017, following the Bury versus Sunderland televised Round One tie."