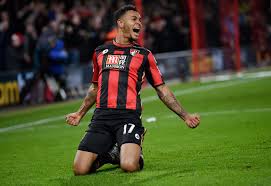 West Ham will remain in 14th place should they be beaten at Chelsea tomorrow and Southampton were to gain the unlikeliest of victories at Arsenal.
Today's Premier League results did the Irons no harm at all after Bournemouth did us the favour they have owed us since Callum Wilson cheated us out of victory on Boxing Day.
They  grabbed an 89th minute equaliser through Josh King (pictured right)  – a guy who in my opinion David Moyes should be having a good look at if he isn't already – to ensure that Palace managed to reach just 31 points, two behind us whilst failing to improve their goal difference, which may have put us into 15th.
Elsewhere West Brom – surely down now with just 21 points – managed a point whilst Stoke were beaten at home by Spurs and are on 27 – second off bottom still.
Saints are on 28 and whilst not counting any chickens look likely to stay there after a seriously tricky to the Emirates.