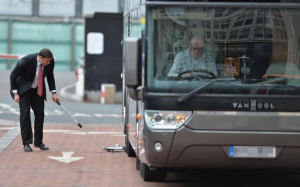 West Ham will be extra vigilant when travelling to Sunderland after the Borussia Dortmund team bus was hit by three explosive devices injuring one player earlier this week.
The club has spoken to the Met police who have advised club personnel to stay vigilant, report any suspicious behaviour, keep travel routes private and have a contingency plan and test it.
West Ham's Chief Operating Officer is meeting with the club's coach company next week to review and assess the standard of operating procedures on both home and away travel in light of the recent terrorist attack in Germany.
The Premier League have issued the following statement: "Updated security advice, including a reminder of the current 'severe' security threat level, has been issued by the appropriate statutory authorities to all Premier League clubs."
A letter left at the scene of Tuesday's triple bomb attack on Borussia Dortmund's team bus warned "crusader" sports idols and celebs are now on a IS death list.