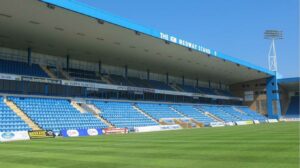 West Ham have been drawn against Gillingham away in the FA Cup third round proper to be played the first week of January.
The Hammers have played the Kent side ten times since 1912 with six wins, one draw and three losses.
The first game between the pair played in November 1912 resulted in 4-0 win in the Southern League First division.
The pair ended up playing six times between 1912 and 1914 culminating in a 4-0 loss to the Hammers.
There was then a gap of 88 years until played the Gills in League One/Championship in 2003/2005 and 2004/2005 season winning three and losing one.
West Ham's last game against Gillingham came over 14 years ago in February 2005 with a 1-0 win thanks to a goal by Marlon Harewood.
The cup draw will be played at Priestfield Stadium which has a capacity of 11,582, the FA rules dictate an away allocation of 15% which should work out at 1,737, however like always this is subject to segregation in the stadium and local police advice.