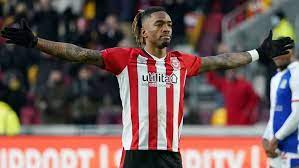 Brentford striker Ivan Tony's former director of football believes the 25 year old  is precisely what the Irons require this summer.
And he's revealed that he recommended the player his former Birmingham City owner David Sullivan before he eventually agreed terms with Brentford.
Now he believes the player as "the best striker I've ever had at Peterborough United" could be hunted by various top clubs once the window opens.
With 29 goals to his name so far this season Toney is the latest red hot striking name to catch the headlines.
And according to Fry he is set to become a "top top player over the next few seasons and it would be great were that to be at West Ham.
"He has everything you want in a player and apart from his attacking abilities he was the best defender we had at the club!"
It's understood that four or five clubs are already in touch with his representatives Pinnacle Global Advisors .
And should the Bees decide to cash in, it will demonstrate their abilities in recruitment  where Said Benrahma and Olly Watkins were sold for approximately £60 million last summer.
Fry declared: " You couldn't find a better lad than Ivan. All, he wants to do is learn, learn and learn some more.
I'm absolutely sure he would do that and become an even better front man under David Moyes. I hope the Irons go for him."