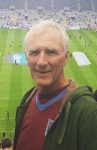 By Allen Cummings
If only big games were decided by stats and statisticians we wouldn't be about to put ourselves through what's sure to be a very tense and possibly at times agonising 90 minutes this evening at the London Stadium.
The nerves will be jangling for sure. After all, we're West Ham, and as we all know from experience, anything can happen!
But if we're looking for reassurance that this really is a game we can and should win, here are a few facts and figures that might help!
We currently occupy 15th place in the Premier League, while Stoke sit four places behind us in the relegation zone in 19th. We have collected 34 points from 32 games played while City have just 27 pts from 33 games.
Our 8 wins and 14 defeats is better than their 6 wins and 18 defeats record. You need to score goals to win games and Stoke have found that extremely difficult to do this season.
They've hit the back of the net just 30 times in the league whereas we have beaten the 'keeper on 40 occasions. That gives us a ratio of 1.25 goals per game, while City fall below the goal a game ratio at 0.91.
Defensively we have a better record as well. 58 goals conceded to the Potters 63 goals. That's a ratio of 1.81 goals per game to 1.91 goals per game in our favour.
If you're looking for possible match winners, Arnie's nine goals so far this season is two goals better than Stoke's top scorer Shaqiri who has notched seven strikes.
We live in a data dominated world these days. Feed the above data into a computer. Pose the question is this a game we could or indeed should win? The computer would surely say "yes"!
Of course real football isn't like computerised football. It can be unpredictable. Throw up the unexpected. Only yesterday we saw a prime example of that when WBA, against all the odds, went to Old Trafford and beat Manchester United.
It's why we love this game so much. But let's hope tonight the unexpected doesn't happen. The game goes to form and we claim the win we all desperately want and need!