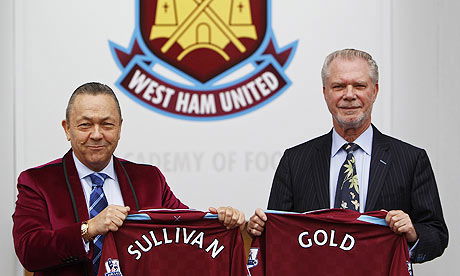 Forbes has published a list of the top 20 most valuable football clubs in the world with West Ham managing to rank at 19th.
It means the Hammers are the eighth most valuable club in England behind Manchester United £2.07Bn, Manchester City £905m, Chelsea £898m, Liverpool £644m,  Spurs £394m and Newcastle £229m.
West Ham's value of £203m is based on a revenue of £122m.
David Sullivan and David Gold purchased 50% of West Ham  in 2010 valuing it at £105m,  later that year they increased their ownership to 60% for an additional £8m.
In 2013 Sullivan invested another £25.5m to buy a further 26.2% of West Ham taking their combined share holding to 86.2% (Sullivan 51.1% / Gold 35.1%) Gold and Sullivan have also invested a total of £49.2m in share holder loans to the club in five years.
The latest valuation by Forbes of £203m means Sullivan's shareholding could be valued at £102.7m while Gold's shares are valued  £71.23m although Claret and Hugh understand nether have any intention of  selling up .